← Go to the news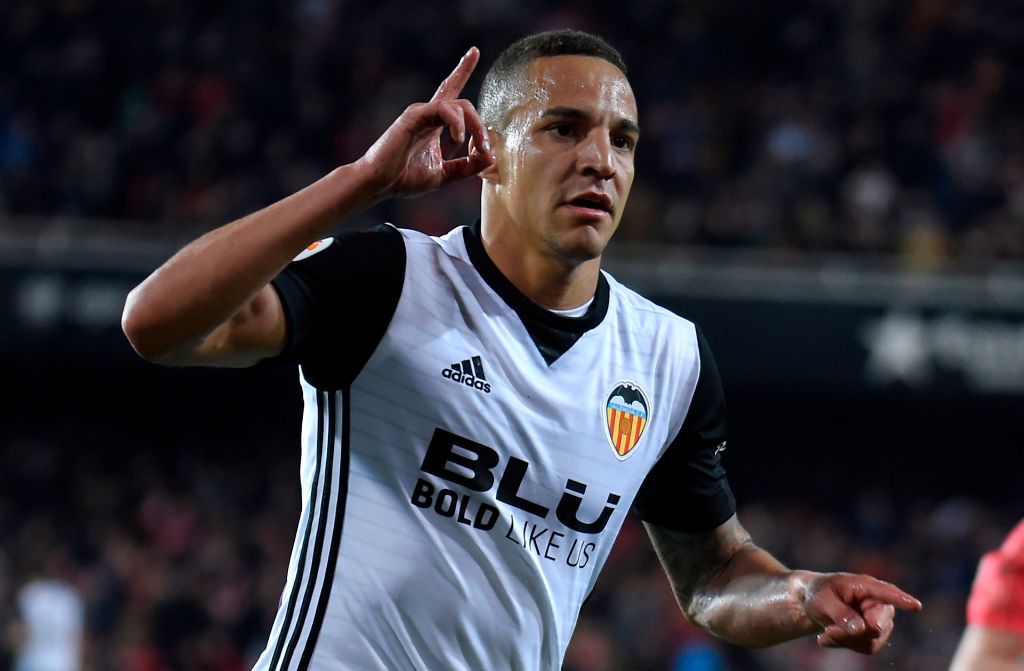 Wird Rodrigo in Real Madrid wechseln?Rodrigo Real Madrid'e transfer olacak mı?Will Rodrigo move to Real?Rodrigo Madridə keçidi baş tutacaq?
Zuvor gab es Informationen, dass Madrid Real Interesse an Rodrigo Moreno hat. Die Medien begannen, seinen möglichen Übergang zu besprechen, aber der Präsident von Valencia Anil Murthy machte es deutlich, dass der Club den Stürmer nicht loslassen wird.
– Julen Lopetegui kennt Rodrigo gut, aber wir wissen nicht, was in Real passiert"-  zitiert ESPN den Präsidenten.  – Ich weiß jedoch genau, dass Rodrigo für uns einer der wichtigsten Spieler ist. Sein Transferwert wird auf 120 Millionen Euro geschätzt. Diese Zahl haben wir nicht zufällig angegeben, aber nach einer langen und sorgfältigen Analyse des Transfermarktes. Wir werden noch sehen, was weiter passieren wird, aber wir wissen, dass Rodrigo selbst Valencia nicht verlassen will.
Wir warden daran erinnern, dass der 27-Jährige Spanier in dieser Saison an einem Spiel für Valencia teinahm und einen Treffer erzielte.
Son zamanlarda, sosyal medya'da Rodrigo Moreno'nun Real Madrid'e transfer olma ihtimali söyleniyor.
Ancak 120 milyon Euro bonservis bedelinin altındaki bir rakamı kabul etmeyeceklerini kaydeden Valencia başkanı Anil Murthy, "Transfer pazarında her şey değişiyor. Neler olacağını göreceğiz." diye konuştu.
ESPN gazetesine açıklamalar yapan Kulüp başkanı Anil Murthy : "Real Madrid Teknik Direktörü Julen Lopetegui'nin onu tanıdığını herkes biliyor. Ancak Madrid'de neler olduğunu bilmiyoruz. Üç şeyi biliyorum : Rodrigo, yüksek bedeli olan çok önemli bir oyuncu. Burada oynamak istiyor ve sözleşme fesih bedeli 120 milyon Euro" ifadelerini kullandı.
Profesyonel futbol kariyerine Real Madri'de başlayan Brezilya asıllı İspanyol oyuncu, Valencıa ile bir maça çıktı ve 1 gol attı.
Earlier there was information that Real Madrid is interested in Rodrigo Moreno. The media began to discuss his possible transfer, however, the president of the "Valencia" Anil Murthy made it clear that the club does not intend to sell the forward.
-Julen Lopetegui knows Rodrigo very well, but we do not know what's going on in Real Madrid right now, – said the president to ESPN – However, I know for sure that Rodrigo is one of the most important key players in our team. His transfer value is estimated at 120 million euros. We haven't specified this figure by chance, but after a long analysis of the transfer market. We will see what happens next, but we know that Rodrigo doesn't want to leave Valencia himself yet.
We recall that the 27-year-old Spaniard in this season took part in one match for "Valencia" and scored there a goal.
Transfer pəncərəsi açılar açılmaz Real Madrin Rodrigo Moreno ilə maraqlandığı şayiələri yayılmağa başlamışdı.
Mətbuatda jurnalistlər olacaq bir keçidin mümkünlüyünu artıq müzakirəyə çevirmişdi ki, Valensiya klubunun Prezidenti Anil Murphy hücumçunu qəti şəkildə satmayacaqları bəyanatını verdi. Rodrigonun komandanın ən əsas aparıcı qüvvələrindən biri olduğunu və ona ehtiyacları olduğunu deyib.
"..Ancaq transfer dəyəri olaraq uzun araşdırma və analizlərdən sonra 27 yaşlı hücumçuya 120 M avro dəyər hesablamışıq.Və bunu özümüzdən yox tranfer bazarını incələdikdən sonra qərar vermişik. Bilirik ki Rodrigo bizimlə burada xoşbəxtdir və bizi tərk etmək istəmir " -deyə klub Prezidenti əlavə edib.