← Go to the news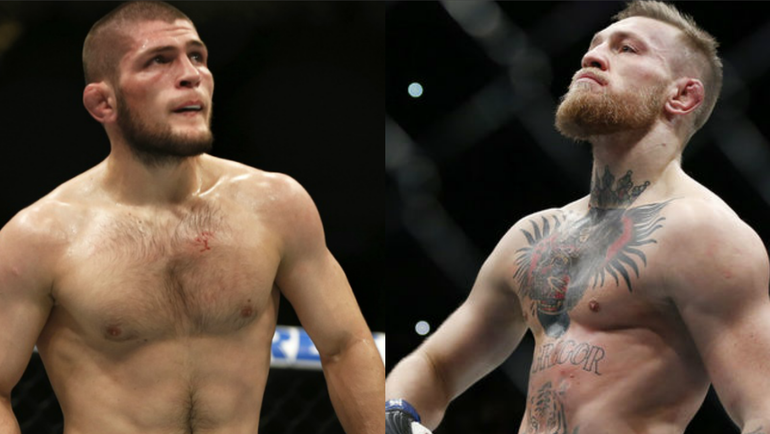 Nurmagomedov: "Schließen Sie einfach die Tür …»Nurmagomedov: "Kafesin kapısını kilitleyin…"Nurmagomedov: "Just close the door …»Nurmagamedov : ' Sadəcə rinqin qapılarını bağlayın və izləyin '
Der russische mixed-style-Kämpfer Habib Nurmagomedov hat eine Erklärung  über den bevorstehenden Kampf gegen den Amerikaner Conor McGregor abgegeben.
Den Russen zitiert die offizielle Webseite von UFC: "Es wird der größte Kampf in der UFC-Geschichte sein. Meine Fans warten auf meinen Sieg. Es ist ein geldkampf, weil Conor sehr beliebt ist. Er hat nur eine Chance — Lucky Punch (glücklicher Schlag). Wie steht es  mit dem echten  Kampf? Mein Traum ist es, diesen Kerl wie ein Hühnchen zu zerquetschen. Schließen Sie einfach die Tür…."
Der Kampf zwischen Nurmagomedov und McGregor findet am 6. Oktober in Las Vegas statt.
Der Russe hat schon 26 Siege, er hat noch nie verloren. McGregor, der 21 Siege und 3 Niederlagen hat, ist der ehemalige UFC-Champion im Leichtgewicht.
Es ist intrressant zu bemerken, dass die Tickets für den Kampf zwischen dem Russen und dem Amerikaner in nur 3 Minuten ausverkauft wurden.
Hafifsiklet Çeçen asıllı Rus dövüşçü Khabib Nurmagomedov, ABD'li  Conor McGregor hakkında açıklamada bulundu.
UFC  resmi sitesi'ndeki röportajında, Khabib: "UFC tarihinin en büyük dövüşü olacak. Herkes benim kazanmamı bekliyor. Bu bir ciddi 'paralı dövüş', çünkü Conor çılgın bir popülerliğe sahip. Conor'un tek bir şansı var o da 'şanslı yumruk'. Benim tek hayalim –korkak İrlanda Tavuğunu parçalamak. Kafesin kapısını kilitlemeyi unutmayın!" ifadelerini kullandı.
Bu dev mücadele 6 Ekim'de Las Vegas'ta düzenlenecek UFC 229 dövüş gecesinde yapılacak.
26 galibiyet alan Dagistanlı dövüşçü Khabib Nurmagomedov, profesyonel kariyeri boyunca hiç yenilmedi. Eski UFC Hafifsiklet şampiyonu Conor McGregor kariyeri boyunca 21 galibiyet 3 mağlubiyet aldı.
UFC , bu mühteşem dövüş için 3 dakikada biletlerin tamamını satarak bir rekor kırdı.
The Russian fighter of the mixed style Habib Nurmagomedov made a statements about his forthcoming fight with the American Conor McGregor.
The comment of the Russian quotes a press-service of UFC: "It will be the biggest fight in the history of UFC. The fans are waiting for my victory. It's a money fight because Conor is very popular. He has only one chance — lucky punch. And what about a real fight? My dream is to crush this guy like a chicken. Just close the door …"
The fight between Nurmagomedov and McGregor will take place on October 6 in Las Vegas.
The Russian, who has already 26 victories, has never failed. McGregor, who has 21 wins and 3 losses, is the former champion of UFC in semi-lightweight.
Interesting thing, that the tickets for the battle of the Russian and American were sold out in just 3 minutes.
Rusiyalı qaydasız döyüşçü Habib Nurmagomedov gələn döyüş barədə – amerikalı  Conor McGregor ilə oyunu barəsində açıqlamalar verib.
O UFC mətbuatına verdiyi müsahibədə bildirilib ki, " Bu tarixin ən böyük qarşılaşmalarından biri olacaq. Azərkeşlərim məndən qələbə gözləyir. Bu əsl pul uğrunda döyüş olacaq çünki hər ikimiz çox məhşuruq. Mcgregor mənə qalib gələ bilməsi üçün çox şanslı olmalıdır. Amma real döyüşdə mən onu buldozer kimi əzəcəm sadəcə qapıları bağlayın.
Nurmagamedov ilə Conor Mcgregor arasında döyüş 6 oktyabr Las Vegasda baş tutacaq.
Habib çıxdığı 26 oyundan hamısını qazana bilib,Conor isə 21 qələbə 3 məğlubiyyəti var. Digər maraqlı fakt isə biletlərin 3 dəqiqə içində bitməsidir ki, bu da oyuna marağın dəhşətli dərəcədə olduğundan irəli gəlir.