← Go to the news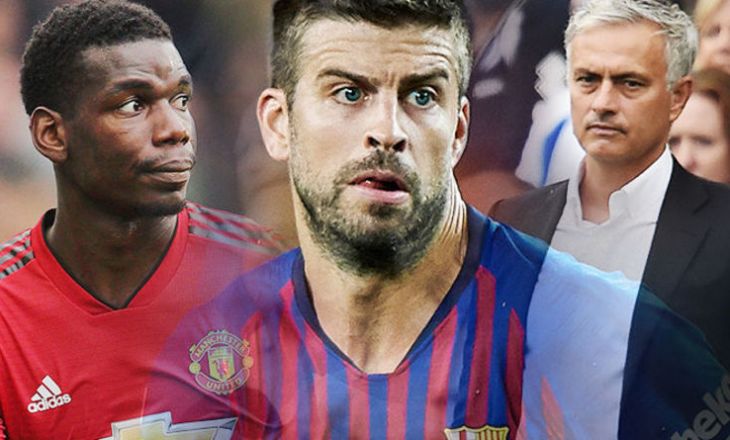 Gerard Pique will Paul Pogba als Teil von Barcelona sehenGerard Pique: ''Paul Pogba'yı Barcelona'da Görmek İsterim! ''Gerard Pique would like to see Paul Pogba in Barcelona.Pique Pogbanı Barselonada görmək istəyir
Früher wurde es bekannt, dass der Mittelfeldspieler von Manchester United einen Konflikt mit dem Cheftrainer des Teams José Mourinho hatte. In diesem Zusamenhang gibt es Gerüchte, dass Pogba in der nahen Zukunft Manchester United verlassen wird. Der Hauptanwärter auf den Mittelfeldspieler ist Barcelona.
– Über die Beziehungen zwischen Paul und Mourinho ist mir nichts bekannt, – sagte Pique In einem der Interviews. – Aber wir werden uns auf jeden Fall freuen, ihn als Teil von Barcelona zu sehen. Er ist ein atemberaubender Spieler.
Barcelona ile Manchester United arasında Pogba krizi yaşanmaya başladı. Manchester United Teknik Direktörü Mourinho ile Fransız yıldız Paul Pogba arasında sorun yaşandığı haberlerinin ardından Barcelona Pogba transferi için düğmeye bastı.
Pogba transferi için bir açıklamada Barcelona yıldızı  Gerard Pique'den geldi.
Pique, sosyal medya'da yapılan açıklamasında "Pogba ve Mourinho arasında olanlar hakkında çok az şey biliyorum. Onların arasındaki ilişki çok özel.Pogba'yı Barcelona formasıyla izlemek çok keyifli olur. Ne olacağını bilmiyorum ama onu takımda görmekten mutluluk duyacağım." dedi.
Paul Pogba 2016'da Juventus'tan Manchester United'a 89 milyon poundluk rekor bir ücretle transfer olmuştu.
It is known that the central midfielder of MU has a conflict with their head coach Jose Mourinho. In this regard, there are rumors that Pogba is going to leave Manchester United in the nearest future. The main contender for the acquisition of the midfielder is Barcelona. The main contender for the player is Barcelona.
– I know nothing about the relationships between Paul and Mourinho, ' –  said Pique in an interview for Sport. – But we will be glad to see him with Barcelona in any case.  He's a fabulous player.
Bilindiyi kimi, Mançestr klubunun yarım  müdafiəçisi Pogbanın baş məşqçı Mourinho ilə ulduzları barışmır.Buna görə onun yaxın bir zamanda klubdan ayrılacaği şayiələri yayılmaqdadır.Onu transfer etmək istəyən klubların içində isə ən çox Barselonanın adı hallanır.
Pique bu barədə verdiyi açıqlamada "…mən bilmirəm Mourinho ilə münasibətləri nə yerdədi Pogbanın amma o möhtəşəm bir oyunçudur onu burada görmək xoş olardı ".