← Go to the news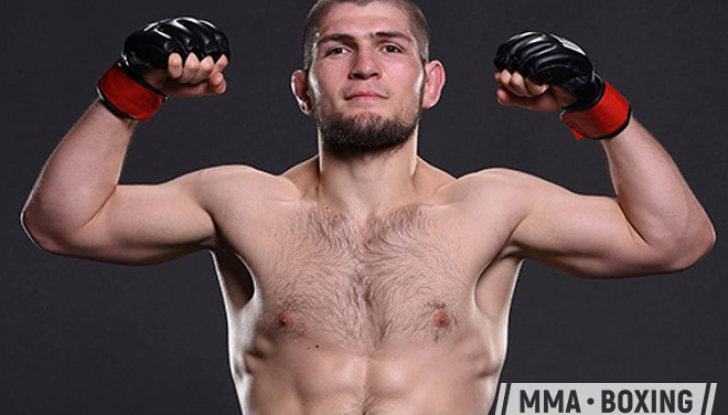 Wie viel wird Nurmagomedov für den Kampf mit McGregor bekommen?UFC 229: Nurmagomedov bu müsabakadan ne kadar gelir elde edecek?How much will Nurmagomedov get for the fight with McGregor?Nurmagamedov McGredor ilə döyüşdə nə qədər qazanc əldə edəcək?
Der UFC-Champion im Leichtgewicht Habib Nurmagomedov erhält für den Titelkampf gegen Conor McGregor mehr als 10 Millionen US-Dollar.
So wird die Gebühr von Habib ein neuer Rekord sein. Früher noch kein russischer Kämpfer, der in gemischten Kampfspielen auftritt, hat einen ähnlichen Geldbetrag erhalten.
Am 19. August gab Nurmagomedov ein Interview, in dem er sagte, was er von diesem  Treffen mit McGregor erwartet. "Wir erwarten einen großen Kampf. Vielleicht der größte in der UFC-Geschichte. Meine Fans unterstützen mich und warten auf meinen Sieg. Wir werden viel Geld verdienen, weil Conor sehr beliebt ist", – sagte der Russe.
Jetzt bereiten sich McGregor und Nurmagomedov auf den letzten Kampf der UFC 229 vor.  Er findet  am 6. Oktober in Las Vegas statt. Der Russen wird den Titel des Weltmeisters im leichten Gewicht schützen. Nurmagomedov hatte noch keine  Niederlage in seiner Karriere (26 Siege) . McGregor ist ein ehemaliger UFC-Champion im Leichtgewicht und Federgewicht. Er hat 21 Siege und drei Niederlagen.
6 Ekim'de Las Vegas'ta düzenlenecek UFC 229 dövüş gecesinde Rusyalı Khabib Nurmagomedov ile İrlandalı Conor McGregor karşı karşıya gelecek.
UFC Hafifsiklet Şampiyonu Khabib Nurmagomedov, bu  müsabakasından 10 Milyon dolar kazanarak rekor kıracağı tahmin ediliyor.
19 Ağustos'ta yapılan açıklamasında Nurmagomedov: "UFC tarihinin en büyük dövüşü olacak. Herkes benim kazanmamı bekliyor. Bu bir ciddi 'paralı dövüş', çünkü Conor çılgın bir popülerliğe sahip. Conor'un tek bir şansı var o da 'şanslı yumruk'. Benim tek hayalim –korkak İrlanda Tavuğunu parçalamak. Kafesin kapısını kilitlemeyi unutmayın!" ifadelerini kullanmıştı.
Nurmagomedov ve McGregor,  büyük heyecanla beklenen UFC 229 dövüş gecesinde ringe çıkmak için hazırlanıyorlar.
26 galibiyet alan Dagistanlı dövüşçü Khabib Nurmagomedov, profesyonel kariyeri boyunca hiç yenilmedi. Eski UFC Hafifsiklet şampiyonu Conor McGregor kariyeri boyunca 21 galibiyet, 3 mağlubiyet aldı.
The champion of UFC in light weight Habib Nurmagomedov will receive more than 10 million dollars for title fight against Conor McGregor.
Thus, Habib's fee will be a new record. Previously no, Russian fighter, acting in mixed martial arts, has not received such a big amount of money.
On August 19, Nurmagomedov gave an interview in which he told what he expected from the fight  with McGregor. "We will have a big fight. Probably the biggest in the history of UFC. My fans support me and wait for my victory. We will earn a lot of money, because Conor is very popular," – said the Russian.
Now McGregor and Nurmagomedov continue to prepare for the final fight of the UFC 229. We remind, that it will take place in Las Vegas on October 6. The Russians will defend the belt of the world champion in the lightweight division. Nurmagomedov has never failed in his professional career, he has 26 wins. McGregor is a former champion of UFC in semi-lightweight and lightweight. He has 21 victories and 3 defeats.
Nurmagamedov ilk dəfə bir rus döyüşçünün qazanmadığı qədər bir məbləğ uğrunda McGregor ilə döyüşəcək: 10 milyon dollar.
Avqustun 19-u verdiyi müsahibədə " Böyük döyüş bizi gözləyir,azərkeşlərim mənə dəstək olmaqdadır və mən də fərqindəyəm qalib gəldikdə qazanacağım məbləğin.Çünki o-McGregor çox məhşurdu." Görüş oktyabrın 6-da Las vegasda baş tutacaq. Habib 26 oyundur ki, məğlubiyyətsizdir. McGregorun isə 21 qələbəsi 3 məğlubiyyəti var.